News & Media
Weston Teams with Colliers Charlotte to lease Statesville Portfolio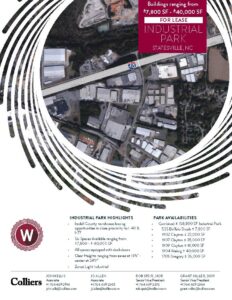 The Colliers Charlotte Industrial Team is proud to announce its latest partnership with Weston to lease their Statesville, NC portfolio. The industrial portfolio consists of 32 industrial buildings totaling 959,175 square feet with vacancies ranging from 7,800 square feet to 40,000 square feet. The buildings are situated less than 5 miles from the major interstate interchange of I-77 and I-40 in the heart of Iredell County.
Following the success of their sizable Southeast portfolio of nearly 6 million square feet of industrial property in South Carolina, Weston looks to build on the growth of the overall Charlotte and Statesville industrial markets.  Weston Inc. is a Cleveland-based real estate investment firm with a presence in seven states made up of approximately 25 million square feet and 800+ tenants. Colliers' Charlotte and South Carolina industrial leasing teams have represented Weston in numerous transactions throughout the Carolinas.
John Ellis, JD Allen, Grant Miller, SIOR and Rob Speir, SIOR will lead the leasing effort for Colliers | Charlotte.
"The Colliers industrial leasing team is excited to continue our longstanding relationship with Weston," says team leader Rob Speir, SIOR. "The growth of both the Charlotte and Statesville industrial markets has been unprecedented. The Weston Statesville portfolio serves a niche to serve the growth of the region."
"When it comes to property ownership and leasing, Colliers shares our same philosophy of striving to be the best provider of industrial real estate. For that we are pleased to expand our partnership with them, and we look forward to offering an excellent product to the Statesville market," Jeff Sabo, Asset Manager for Weston Inc.
Colliers is a leading diversified professional services and investment management company. With operations in 65 countries, our 18,000 enterprising professionals work collaboratively to provide expert real estate and investment advice to clients. For more than 28 years, our experienced leadership with significant inside ownership has delivered compound annual investment returns of approximately 20% for shareholders. With annual revenues of $4.5 billion and $98 billion of assets under management, Colliers maximizes the potential of property and real assets to accelerate the success of our clients, our investors, and our people. Learn more at corporate.colliers.com, Twitter @Colliers or LinkedIn.