News & Media
Water Tech, Inc. Hosts a Groundbreaking Event for Their New Facility in Statesville
Water Tech, Inc. hosted a Groundbreaking Event Wednesday, November 8, for their new Regional Distribution Facility to be constructed at 130 Deer Ridge Road in Statesville, North Carolina. The new facility will be 50,000 square feet and will create more than 26 full-time jobs.
"We welcome Water Tech into the Statesville family," shared Mayor Costi Kutteh, City of Statesville. "They are problem solvers and solution finders. They could not have chosen a better place to expand their business footprint."
Founded 33 years ago, Water Tech, Inc. is a privately-owned, full-service water treatment company with a primary industry focus on food processing facilities as well as other industrial facilities. The company is based in Fort Smith, Arkansas with additional plants in McAlester, Oklahoma, and Meridian, Mississippi. The Statesville facility will be the company's fourth facility and their only location in North Carolina.
Water Tech, Inc. is committed to providing knowledgeable and timely consultation for the management and application of water and wastewater treatment programs at their customer's treatment location. To ensure their ability to offer a high-level of service to their east coast customer base, they enlisted the assistance of the Iredell Economic Development Corporation to secure economic grants from both the City of Statesville and Iredell County.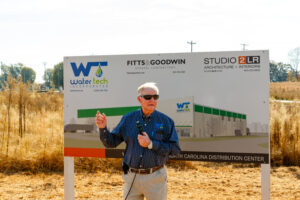 "We are very humbled and appreciative of being selected to be part of the Iredell County Economic Development Incentive program," shared Ken Farris, Water Tech President/CEO.  "We are very excited to be part of the growing economy in Iredell County and Statesville."
About Water Tech, Inc.
Water Tech, Inc. is a privately-owned, full-service water treatment company with a primary industry focus on food processing facilities as well as other industrial facilities.  For more information visit: www.watertechinc.net