News & Media
Turning Pellets into a Household Product: Toter in Statesville, NC
Provided by Iredell EDC on August 15, 2022 —
Congratulations to Iredell County's Toter plant, for its cover feature and article in the July 2022 issue of Business North Carolina magazine. Within the magazine's spread, you will discover the inside of Wastequip's Iredell County plant, located in Statesville, NC, and how it manufactures a common household item out of pellets into waste and recycling products. This issue also highlights the Top 25 Economic Expansions in the past year, including Toyota Motor and VinFast. Several N.C. top performers and projects that have transformed the state over the past year were also recognized by an economic developer group.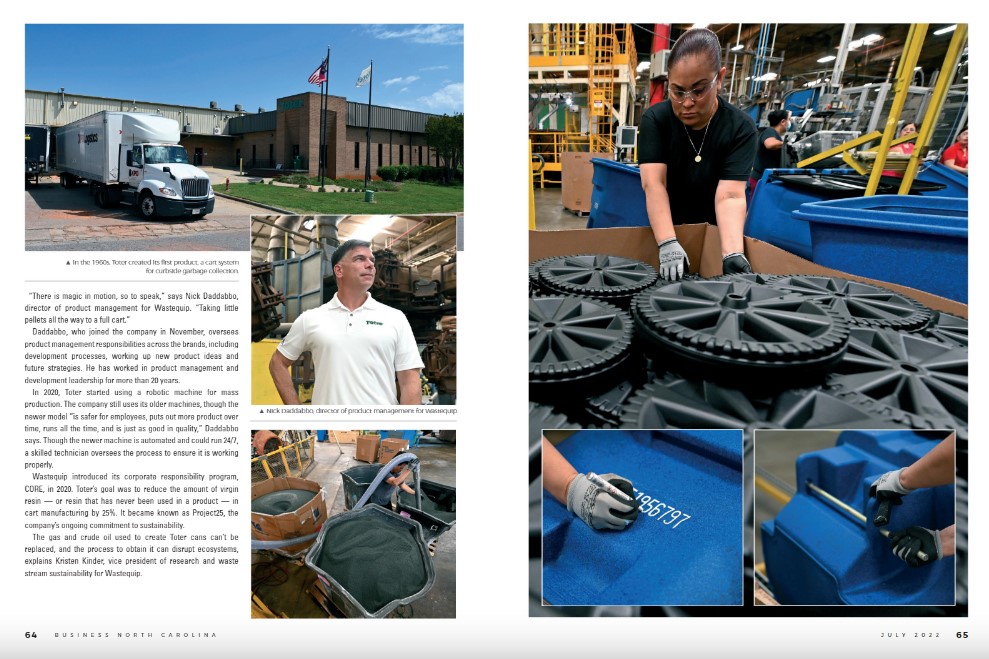 Wastequip introduced its corporate responsibility program, CORE, in 2020 with Toter's goal of reducing the amount of virgin resin (or resin that has never been used in a product) in cart manufacturing by 25 percent; also known as Project25–its ongoing commitment to sustainability. Toter's Research and Development worked towards creating an EVR-Green Cart, which has a cart body made entirely without virgin resin. R&D met this goal of a 100% recyclable material–the cart body made entirely from post-industrial resin.
"It's a recyclable and is made from recycled products," said Nick Daddabbo, director of product management for Wastequip. "Leave more behind than you take" which is the mantra of Wastequip.
Highlights about Toter:
During the 1960s, Toter created its first product, a cart system for curbside garbage collection.
In 2007, Toter joined the Wastequip family of brands, the leading North American manufacturer of waste handling and recycling equipment.
Wastequip specializes in products, systems and solutions that help our customers collect, store, transport and manage various types of waste and recyclables.
In 2020, Toter started using a robotic machine for mass production.
R&D achieves first 100% recyclable material-cart body meeting goal of Project25.
Wastequip was founded in 1989 by the late Charles Walton, Beachwood, Ohio.
Toter plant is located in Statesville, NC.
Provided by Business North Carolina July 2022