News & Media
Southern Distilling Company Celebrates The Carolina Panthers' 2003 NFC Championship With A Limited Edition Southern Star Release
Proudly made in North Carolina, Southern Star bourbon is building on its partnership with the Carolina Panthers with a limited release whiskey commemorating the team's 2003 NFC Championship season. Six unique single barrels of Southern Star Paragon were carefully selected and bottled with commemorative labeling that celebrates the team's achievements. Fewer than 1,000 bottles will be offered beginning Oct. 20, exclusively available in the Carolinas and debuting with a special event at Southern Distilling Company that day. For more information, visit https://southerndistillingcompany.com.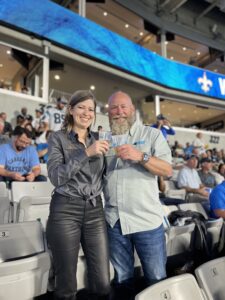 "As a longtime Panthers fan, I'm thrilled to celebrate the 20th anniversary of our team's first NFC championship," said Southern Distilling co-founder and CEO Pete Barger. "I grew up here, and it's where my wife Vienna and I have raised our family and started our business. We're proud to have grown tremendously and earned national recognition, and it's a privilege to celebrate our success alongside the Panthers in this way. I can't wait for us to share this release honoring the 2003 team — and I'll be keeping a bottle on hand to raise a glass to future success, too!"
All bottles will feature a specially designed Carolina Panthers label unlike anything previously released in conjunction with the NFL. Each bottle will be numbered by hand, with the first 150 bottles on sale at Southern Distilling Company in Statesville, N.C., beginning at 10 a.m. Friday, Oct. 20, with a Panthers Legend on-site to autograph bottles.
With so few bottles available, fans are encouraged to pick up a bottle before they sell out, either at the distillery or at select North Carolina ABC stores and South Carolina retailers.
Barger, who grew up in the Carolinas rooting for the Panthers, led the barrel pick process of identifying six exceptional barrels of Paragon bourbon, each an exemplar of the distillery's signature whiskey. While each barrel will have unique characteristics thanks to the aging process, Paragon Single Barrels are sweet with fruity florals and ripe apple notes on the nose; the palate bursts with vanilla, honey, subtle hints of walnuts and a rich texture.
Paragon Single Barrel is made with 70% corn, 16% wheat and 14% malted barley. The Panthers Limited Edition will be offered at cask strength varying by barrel, at an MSRP of $99.95/750mL.
As part of Southern Distilling's partnership with the Carolina Panthers, fans can also enjoy Southern Star products while attending games at Bank of America Stadium. The partnership extends beyond the field, too, with signature Panthers-themed cocktails served at bars and restaurants across the Carolinas. Southern Distilling will also serve signature cocktails at their on-site cocktail bar.