News & Media
Q3 2023 Charlotte Industrial Market Report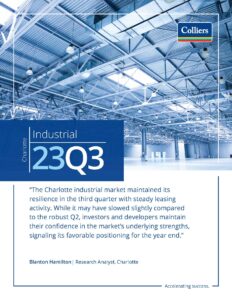 Colliers' recent Q3 2023 Charlotte Industrial Market Report assures that, "The Charlotte industrial market maintained its resilience in the third quarter with steady leasing activity. While it may have slowed slightly compared to the robust Q2, investors and developers maintain their confidence in the market's underlying strengths, signaling its favorable positioning for the year end." Blanton Hamilton, Research Analyst.
Likewise, Iredell County also remains resilient favorably positioned going into Q4 and Q1 2024. Here are a few key takeaways…
• Iredell County new supply under construction during Q3 will deliver Q4 2023 and Q1 2024.
• Iredell absorption slowed Q3 2023 but increased October 2023 with uptick in activity continuing into November.
• Industrial product development firms in Iredell County are proactively addressing changes in facility trends/demand.
Read the full report here.