News & Media
Q2 2023 Charlotte Industrial Market Report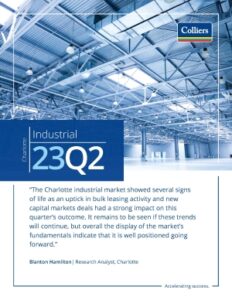 Colliers just released their Q2 2023 Charlotte Industrial Market Report drawing the conclusion that the Charlotte market shows "several signs of life as an uptick in bulk leasing activity and new capital markets deals had a strong impact on this quarter's outcome." Blanton Hamilton, Research Analyst
Much of that life seems to be positively impacted by the continued growth in Iredell County. Here are some of the key takeaways:
The Iredell County Industrial Vacancy rate has dropped over a full percentage point since Q1 (3.29% to 2.24%).
The most occupied flex space square footage of all counties surrounding the Charlotte Industrial market.
3rd lowest total vacancy rate in all surrounding counties (excludes Mecklenburg submarkets).
3rd highest square footage under construction (2.34M sq ft) of total market.
The average direct asking rate for Iredell County is $1.34 lower than the average of all submarkets.
Read the full report here.