News & Media
Leadership Statesville Class 2022
Congratulations to Jessica Stewart, VP, Workforce and Strategic Initiatives for being selected to be a part of the Greater Statesville Chamber of Commerce, 2021-2022 Leadership Statesville class.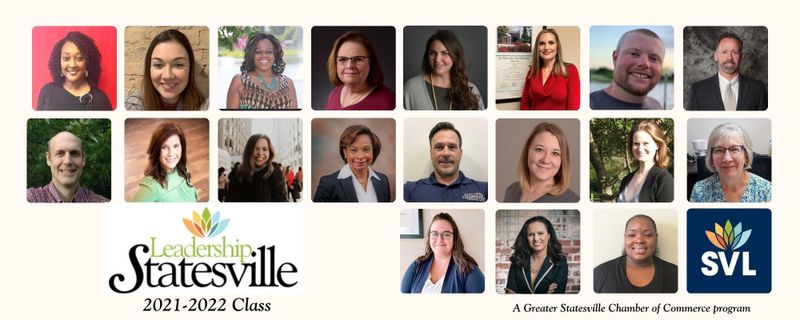 The Greater Statesville Chamber of Commerce and the Leadership Advisory Council are pleased to announce the 2021-2022 Leadership Statesville class.
Leadership Statesville exists to cultivate and connect the leadership community in Statesville and Iredell County by providing hands on leader development, education, and local connections in order to optimize participant impact in their businesses, non-profits and the community at large. The program aims to enhance growth by connecting to state and regional leadership resources and providing alumni avenues to use individual strengths and talents to benefit our local area.
Jon Madison with Doug Madison Realty, Chair for the program says, "Leadership Statesville is the premier program for developing the leaders and community advocates that Statesville and Iredell County need during these challenging times.  We are excited to welcome Leadership Statesville class of 2022 into the program and look forward to returning them to their organizations better equipped to lead within their sphere.  When leaders improve everyone gets better.  So, let's get started!"
A nine-month program, the participants meet each month to explore the inner workings of the region's government, educational system, economic development, service organizations, regional issues, leisure and culture, health services, and public safety. Class members have the opportunity to learn about and practice skills critical to working with volunteers and groups in the community. Included in the program is leadership training which is unique to other leadership programs.
Leadership Statesville has partnered with Charles Page and Kristie Darling with the Cool Spring Center for leadership development programming.  Each class day will include two hours of training from Charles and Kristie that will enhance their program experience.
The first class day took place on Friday, September 17 with a full day retreat at the Iredell County Parks and Recreation Outdoor Education Center located at Jennings Park. Current participant Kristin Crawford with Endeavors Pediatric Therapy had this to say about her first experience with Leadership Statesville, "Collectively, we have chosen to be leaders in the Statesville COMMUNITY. We will NETWORK to be all we can, and to serve wholeheartedly. We will strive to GROW as leaders to help meet the needs of Statesville. Through our COLLABORATION, we will have a true and lasting IMPACT!!"
Past Leadership Statesville graduates sit on various Board of Directors throughout the city and work to serve the area in continuing to build an outstanding community. An alumni program is being developed to further expand the program reach and impact.  Alumni are encouraged to reach out the Chamber or Council for details.
The Leadership Statesville program would not be possible without our sponsors.  Thank you to Doug Madison Realty, Jon C. Packman DDS, Hospice & Palliative Care of Iredell County, United Way of Iredell County, Greenbriar Grill, Statesville Recreation & Parks Department and Iredell County Parks and Recreation Department.  The program is still seeking class day sponsors, contact the Chamber for details.
 Welcome our Leadership Statesville Class 2021-2022
Chad Burgin
Hospice & Palliative Care of Iredell County
 Lynn Coleman
Diakonos, Inc., Fifth Street Shelter Ministries
Kristin Crawford
Endeavors Pediatric Therapy
 Matthew Current
Doosan Infracore Portable Power
Hannah Elmore-Scott
Mitchell Community College
Nakayla Griffin
Boys & Girls Club of the Piedmont
Scott Harrell
City of Statesville
Kristin Jacobs
Kinsleeshop Farm LLC
Haley Joyner
Iredell County Parks and Recreation Department
Jeanne Krauss
Iredell County Partnership for Young Children, Inc.
Daniel Lewis
Statesville Recreation & Parks Department
Brittany Marlow
Excel Real Estate Group
Andy McKinney
Engage2Excel
Annisa Morton
NC Works Career Center – Statesville
Heather Oland
Home Instead Senior Care
Candace Reeves
Davis Regional Medical Center
Devon Shelton
City of Statesville
Cherie Smith
Iredell Health System
Jessica Stewart
Iredell Economic Development Corporation
Dana White
Statesville Woman's Club
The mission of the Greater Statesville Chamber of Commerce is to connect all sectors of the community, generating education and economic opportunities to improve the quality of life.
###