News & Media
Iredell EDC Receives Excellence Award from the International Economic Development Council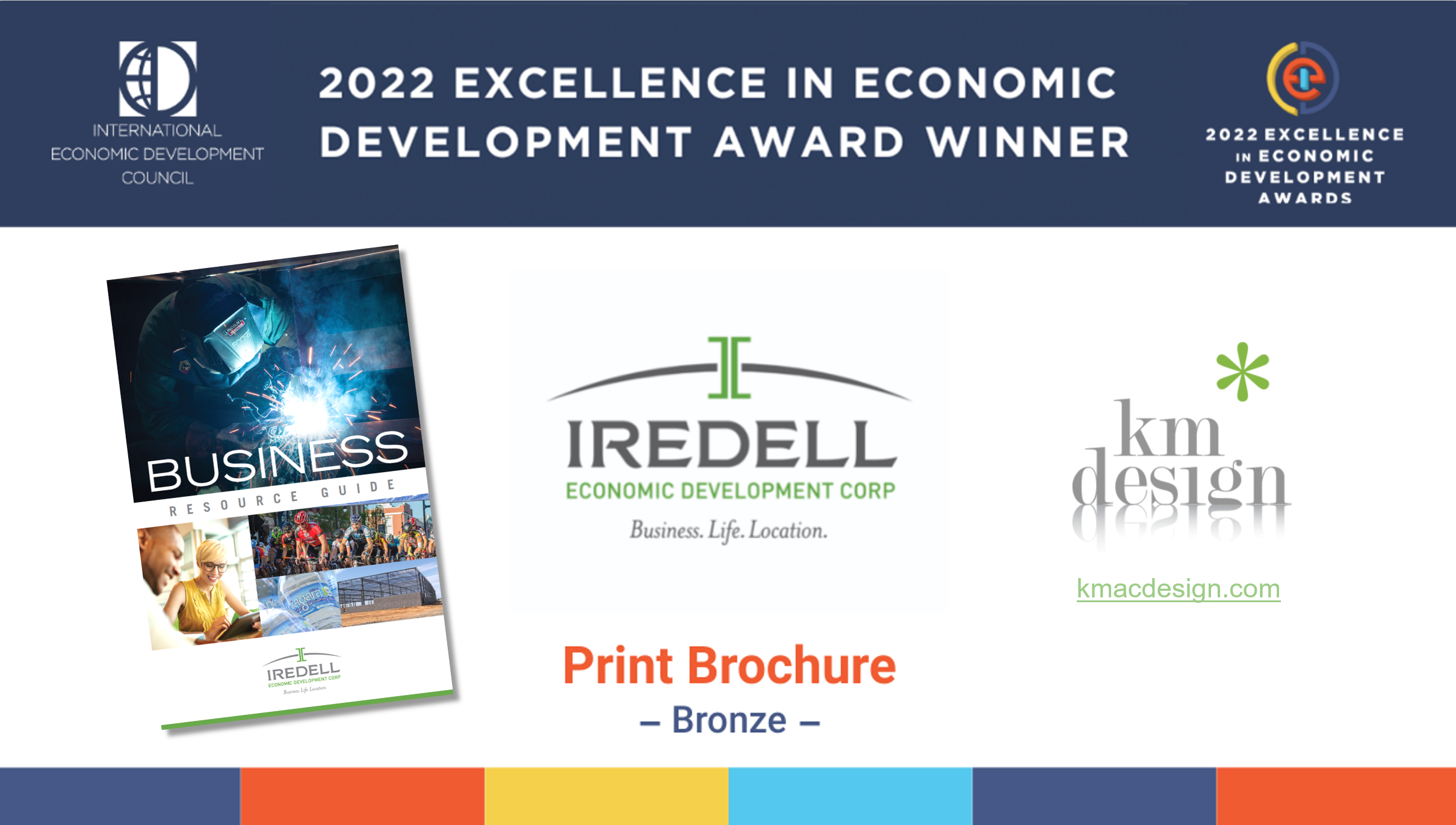 IREDELL COUNTY, NC – The International Economic Development Council (IEDC), the largest nonprofit professional association for professional economic developers in the world awarded the Iredell County Economic Development Corporation (Iredell EDC) a 2022 Excellence Award for the publication of their Business Resource Guide. Recognized each year during the IEDC Annual Conference, the awards honor organizations for exemplary economic development marketing campaigns, projects, and programs. 25 award categories honor organizations and individuals for their efforts in creating positive change in urban, suburban, & rural communities.
The Business Resource Guide was produced by the Iredell EDC in 2021. The directory provides over 100 resources and features sections based upon where a company is in its lifecycle (new business, growing business) and specific needs of businesses (workforce, assistance navigating regulations, funding). The guide also focuses on resource for businesses owned by veterans, women, and minorities.
Awards are judged by a diverse panel of economic and community developers from around the world. IEDC received over 500 submissions from the United States and four additional countries around the world.
The Business Resource Guide is an extension of the Iredell EDC's existing industry and small business ombudsmen services focused on cultivating the expansion and retention of industry by understanding their collective needs, providing resources, and connecting them to networks.
This publication is a first of its kind for Iredell County. "Our local and small businesses are significant contributors to our local economy, and their success is very important to us," said Jenn Bosser, President & CEO of ICEDC. "We are focused on disseminating this information broadly to reach all businesses to increase access to individuals that may not be aware of these programs."
ICEDC has made the publication available electronically on Iredelledc.com and will distribute hardcopies throughout the county at partner organizations including; Iredell County, City of Statesville, Town of Mooresville, Town of Troutman, Mitchell Community College, Mooresville Convention & Visitors Bureau, Chambers of Commerce, and the Downtown Alliances. The publication was designed by Karen McElmoyle of km designs.  The Business Resource Guide can be found here.
"Communities need our profession now more than ever. This year's awardees exemplify the ingenuity, leadership, and determination needed to meet the challenges of today and the future. The winners of IEDC's Excellence in Economic Development awards represent the best of economic development and demonstrate the level of leadership that our profession strives for every day," shared IEDC President and CEO Nathan Ohle.
"This year's awards selection process was especially competitive. We are honored to recognize the more than 100 communities whose marketing submissions, projects, and partnerships have improved regional quality of life," added IEDC Awards Advisory Committee Chair Christina Winn.
###
About: Iredell County Economic Development Corporation
Iredell County Economic Development Corporation (Iredell EDC) is a 501(c)6 private-public partnership dedicated to the growth and success of Iredell County. Iredell EDC promotes economic growth and stability in our community by supporting the creation of new jobs and encouraging investment. They accomplish this through new business attraction, support of existing industry, building a world-class workforce, and collaboration with our community to build economic prosperity for all.  Established by the Iredell EDC, the ICEDC Foundation is a 501(c)3 that supports specific economic development initiatives that create jobs, investment, and resources to minimize the tax burden to the local community.
About the International Economic Development Council
The International Economic Development Council (IEDC) is a non-profit, non-partisan membership organization serving economic developers. With more than 4,800 members, IEDC is the largest organization of its kind. Economic developers promote economic well-being and quality of life for their communities by creating, retaining, and expanding jobs that facilitate growth, enhance wealth and provide a stable tax base. From public to private, rural to urban, and local to international, IEDC's members engage in the full range of economic development practices. Given the breadth of economic development work, our members are employed in various settings, including local, state, provincial, and federal governments, public-private partnerships, chambers of commerce, universities, and a variety of other institutions. When we succeed, our members create high-quality jobs, develop vibrant communities, and improve the quality of life in their regions. Learn more at iedconline.org.