News & Media
Iredell EDC Leads an Industry Leaders Council at Mitsubishi Materials USA
In June 2023, Iredell Economic Development Corporation pulled together 23 business leaders for our Industry Leaders Council at Mitsubishi Materials USA, an industry leader in the manufacture of high-quality cutting tool products, for a presentation by Corvid Cyberdefense, a division of Corvid Technologies, on the best practices to combat the growing threat of cyber-attacks.
A cyber-attack is defined as any intentional effort to steal, expose, alter, disable, or destroy data, applications, or other assets through unauthorized access to a network, computer system, or digital device. Utilizing a variety of tactics like malware attacks, social engineering scams, and password theft, computer hackers launch cyberattacks for all sorts of reasons, from petty theft to acts of war. Cyberattacks can disrupt, damage, and even destroy businesses. Perhaps most frightening, according to Infosecurity Magazine, weekly cyber-attacks have increased worldwide by 7% in Q1 2023 compared to the same period last year, with each firm facing an average of 1248 attacks per week.
According to Rob Bobryk and Jeff Martin of Corvid Cyberdefense, the first step in protecting your business is a clear understanding of your data including: What is your critical data? Where is it stored? Who has access to it? And what is your protection strategy? Additionally, business leaders must understand their vulnerabilities and where these attacks are coming from. The key paths leading to most businesses' critical data are credential breach, phishing, and software vulnerabilities. Ransomware attacks have risen 13% since 2021, and the human element is a factor in 82% of breaches.
To assist businesses protect themselves from cyberattacks, Corvid has created Haven, which includes customizable processes and technology as well as the people to provide businesses with intelligent security.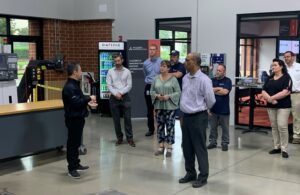 Following the presentation, Mike Pace of Mitsubishi Materials USA led the group on a facility tour and a presentation of why they are the official CNC tooling supplier of companies such as Roush Yates Engines and Roush Yates Manufacturing.
If you would like to learn more about this Industry Leaders Council's presentation or how you can be included in future Industry Leaders Council meetings, contact Todd Black, Existing Industry Manager, Iredell EDC. Todd@IredellEDC.com