News & Media
Industry Leaders Council Breaks Down ESG and How It Is Impacting Business Opportunities
As a part of a commitment to the growth and success of businesses and industry in Iredell County, the Iredell EDC conducts Industry Leaders Council meetings where business leaders throughout the community can discuss topics and trends impacting their businesses. On March 15th, the council convened at Cheney Brothers in Statesville to discuss one of the hottest new topics simply referred to as ESG.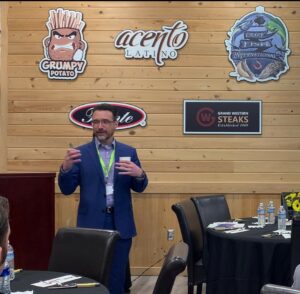 Environmental, Social, and Governance or ESG is defined as a management and analysis framework to understand and measure how sustainably an organization is operating. According to the Corporate Finance Institute, it has evolved from other historical movements focusing on health and safety issues, pollution reduction, and corporate philanthropy. Additionally, ESG has become a important factor in how businesses are choosing their suppliers, vendors, and sourcing of products and raw materials. It has also become a focus of some of the world's largest financial services firms and asset managers whose investments are driven by the interests of their investors. Chris Cassell, Vice President of Corporate Sustainability, of Lowe's Companies, and Erika Ruane, Stewardship Manager, with Crescent Communities, shared valuable insights as to the importance of a sustainability strategy, the role ESG plays, and how Lowe's and Crescent Communities are taking a lead in managing these issues.
Cassell and Ruane opened their presentation by explaining that corporate sustainability is focused on driving long-term benefits for the planet, for society and for the company including those aspects that involve environmental, social, and governance impacts. They continued by explaining how companies that focus on improving their ESG performance can glean long-term advantages with their customers, their employees, their communities, their suppliers, and their investors while ignoring these issues can increase their vulnerability to increased public scrutiny as well as market and regulatory risks.
Recognizing that ESG priorities vary widely across industries and companies, Cassell and Ruane urged organizations to customize their approach to their specific organizations and circumstances while utilizing a proven methodology of identifying issues, evaluating current performance, implementing new programs, and finally, setting goals and measuring progress. Cassell stated that Lowe's Companies structured their strategy around their stated mission, "To deliver the right home improvement products, with the best service and value, across every channel and community they serve."
From an economic development perspective, Iredell EDC is also hearing from the site selection communities that ESG is becoming an important factor in the site selection process for projects in evaluating locations. Companies are asking questions about local communities' environmental and sustainability initiatives and communities need to be prepared to demonstrate and articulate their initiatives in these areas.
The Industry Leaders Council is a key component in the Iredell EDC's mission of assisting business and industry in Iredell County, by recognizing issues impacting their growth and goals, while nurturing an environment where these issues can be collectively discussed, and best practices/strategies are shared. For more information on ESG or inclusion into this program, contact Todd@iredelledc.com.
Some additional resource to learn more about ESG include:
SASB Standards
Forbes
McKinnsey