News & Media
I-SS Working to Grow Student Internship, Pre-apprenticeship Programs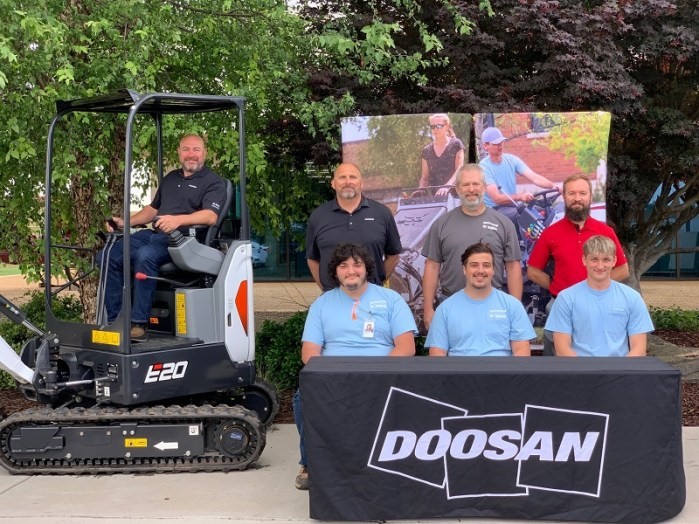 Provided by Iredell Free News and written by Brandy Templeton on June 18, 2022 —
Iredell-Statesville Schools is growing its Career & Technical Education internships and pre-apprenticeship program.
Joanie Winterkamp, the district's work-based learning coordinator, hopes to get more students excited and signed up to participate in work-based learning experiences where a student participates in the daily operations of a worksite under the direct supervision of a business mentor.
"It provides a realistic environment within which a student intern learns about a particular industry or occupation and applies knowledge and skills learned in the classroom," Winterkamp said. "Ideally, the work experience should contribute to the student's career pathway helping the student to narrow their career choices."
The program primarily targets seniors, making them eligible for one high school credit with 135 hours of work-related experience.
"The eligibility factor is that the student has to complete or be enrolled in a second level course in a CTE career pathway to intern," she explained. "For seniors, the school schedule can be worked around internship placement so the student can intern during the school day."
These internships can be paid or unpaid, but all can be compensated in various manners.
"Health science and vet-assisting are unpaid, but some internships are tied to an industry credential."
Also, internships can turn into regular employment with many students working during their school breaks.
Similar to the internship program, is the ISS pre-apprenticeship program.
Executive Director of Industry, Trade, and Business Development Todd Williams shared that the program is for students 16 to 18 years old. It is beneficial to both students and the companies they assist.
"It's on-the-job learning where they can explore career options," he said. "Most are paid, so it's 'Earn while you learn.' "
Like an internship, students earn one high school credit, gain career skills, and are offered so much more.
When high school students enroll in either the pre-apprenticeship or apprenticeship programs in high school, those students can qualify to receive college tuition waivers that cover both registration fees and tuition by the state.
"The pre-apprenticeship program also opens doors into an adult apprenticeship and also guaranteed or preferential job placement," Williams explained. "Students can also earn nationally recognized and stackable credentials."
More companies are coming on board with ISS because of the many benefits.
"It's a positive for companies," Williams said. "They get a return on their investment as soon as six months and it pipelines future employees."
Having students has also helped decrease operational costs, fostered confidence, stability, and helped with long-term job security.
Company partners include Doosan, Harbor Point Animal Hospital, Piedmont Healthcare, Sonoco, Animal Hospital of Statesville, JMS Southeast Inc., and Metro Electric.
Hannah Tuthill, career and technical liaison for Mitchell Community College, partners with I-SS for Mitchell Community College's Apprenticeship Iredell program.
The program includes the same companies and offers training in electrical maintenance and systems, medical assisting, nursing, phlebotomy, healthcare management, matching, mechatronics, and vet tech.
Tuthill said the apprentices are hired by an industry partner and receive on-the- job training while attending Mitchell to earn their credential.
Kevin Smith, site manager for Doosan, said the company is excited to participate in the apprenticeship program and can't wait to also take part in the pre-apprenticeship program.
"There's a large skill gap that we're dealing with. Now there's a great alternative path to fill this with hands-on training along with a partnership with Mitchell Community College," he said. "We need these technical backgrounds to fill roles for future business."
Doosan's apprenticeship includes students Timothy Chavez, Jaron Wenzel, and Kolin Smith.
"I can complete my associate's degree and simultaneously get four years work experience," Chavez said. "You can't beat that with a stick."
Wenzel agreed.
"I saw it as an opportunity to gain work experience while finding a career that interests me," he said.
"It's a great opportunity to get hands-on experience and learning from MCC," Smith said.
JMS Southeast is also participating in the pre-apprenticeship program.
"We're really excited to be a part of this," said company president Mitch Johnson. "We're bringing in young talent and having them learn the fundamentals. This is the way we built up our company."
Source: Iredell Free News, "I-SS working to grow student internship, pre-apprenticeship programs." Iredell Free News, June 18, 2022, https://www.iredellfreenews.com/news-features/2022/i-ss-working-to-grow-student-internship-pre-apprenticeship-programs/.