News & Media
Historic Vance Hotel Developer Outlines Plans for 'Jewel' of Downtown Statesville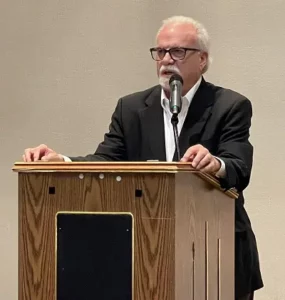 BY MIKE FUHRMAN
Stephen Barker has a grand vision for the Historic Vance Hotel.
Speaking at the annual meeting of the Downtown Statesville Development Corporation on Wednesday, the CEO of the Catellus Group outlined what is happening behind the scenes to turn that vision into reality.
While there are few outward signs of progress on the Vance, Barker assured the downtown business group that the project is moving forward. A Charlotte architect is finalizing the plans, an Atlanta firm is handling the interior design and a New York company is managing the branding and vision.
"It's chaos," he explained. "There's lots of things moving — lots of moving parts."
The Catellus Group, which purchased the 90-room hotel from the City of Statesville for $47,000 in August of 2022., plans to convert the downtown hotel into a 64-room boutique hotel with a restaurant and bar.
The developer is working with local and state agencies to preserve historical features of the Vance, which opened in 1922. The original mosaic tile floor in the lobby is being restored, and the new bar and tables in the restaurant will capture the feel of a Classic Revival-style hotel, the developer said.
Barker said a decision has not been made whether to keep the basement swimming pool.
The Catellus Group is also planning a 140-space parking deck for the rear of the property, but Barker conceded he was not sure "how to pay for it just yet."
Although he did not commit to an opening date, Barker, who first visited the hotel in 2009, predicted that the project will help spark a new revitalization of the downtown district.
"You've got a jewel here," he said. "It's like walking on the beach and finding a little diamond. … I know what it can do for this community."
He pointed to the ghost stories associated with the hotel, the motion picture industry's ties to the property, and the community's strong connection to the Vance as evidence of its value to the city, all of which will make it attractive to future visitors.
"It has branded itself philosophically with the fabric of this community," Barker said.
The Vance, which has been shuttered for more than 20 years, will have a symbiotic relationship with the civic center and the downtown, Barker said.
The management arm of the Catellus Group, will operate the hotel and be actively engaged in marketing Statesville as a destination. In order for that effort to succeed, Barker said, the downtown district will need to "step up" its game. The area needs at least three more restaurants, and property owners should develop the second floors of their buildings as residential space to bring more people downtown, he said.
"This town is ready to go right now," Barker explained.
Source:  The Iredell Free News