News & Media
Downtown Statesville Development Corporation Celebrates 22 New Businesses at Annual Meeting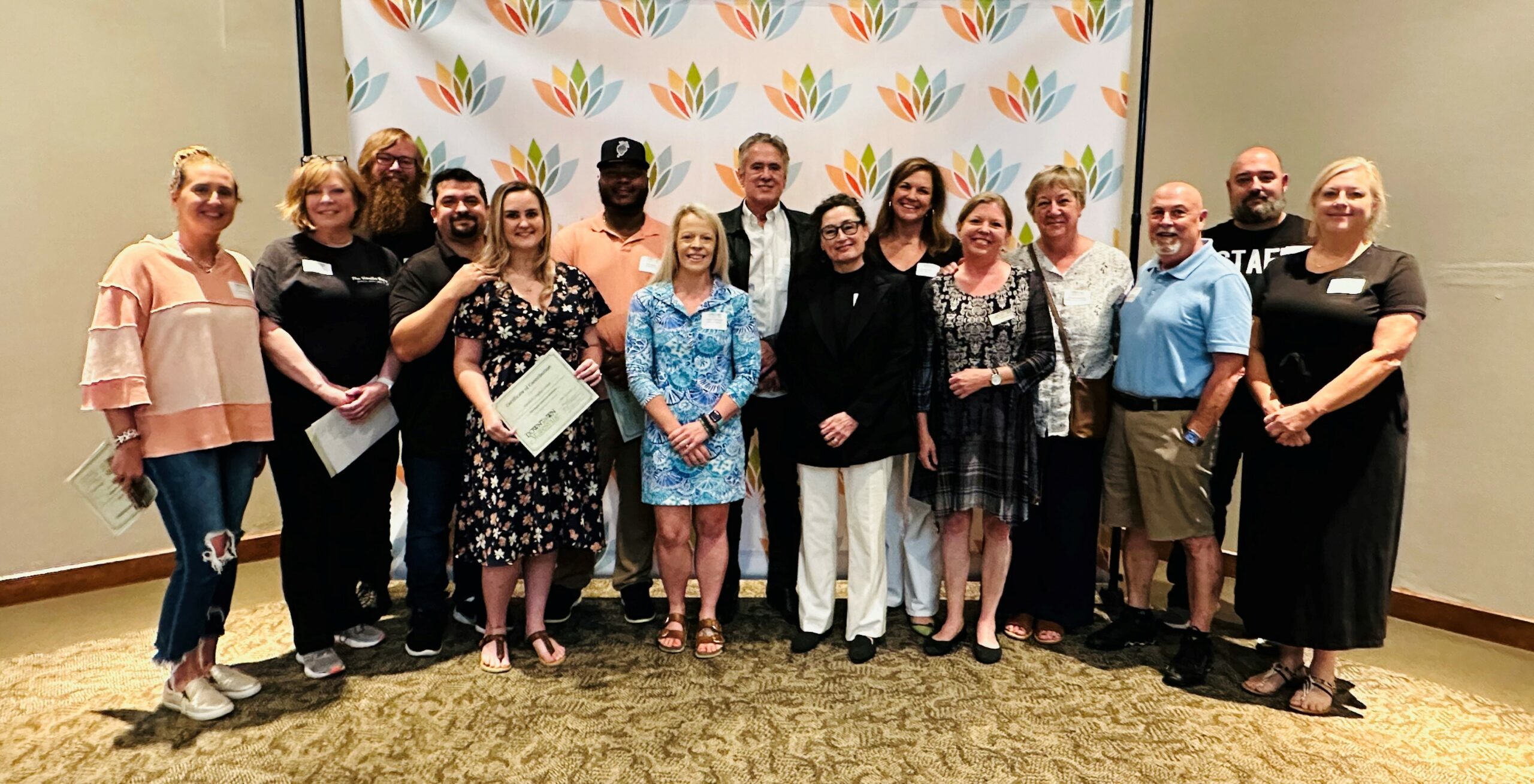 Downtown Statesville Development Corporation (DSDC) held its Annual Meeting on June 21 at the Statesville Civic Center located at 300 S. Center Street in Downtown Statesville. The following officers were approved for 2023-2024: Doug Hendrix of blueharbor bank as Chairman, Jennifer Grant of Stantec Consulting as Secretary and Joshua Speer of Norris, Stewart & Ralston as Treasurer.
Three new Board Members were elected to three-year terms. They included Emilio Lopez of State Farm Insurance, Kevin Hollifield of Jenkins Cleaners, and Marin Tomlin of Allen Tate Realtors.
Outgoing Chairman Wes Davidson and Incoming Chairman Doug Hendrix presided over the meeting which highlighted and recognized achievements of the previous year. The meeting featured Stephen Barker with Catellus Group, LLC giving a much desired update on the Vance Hotel Redevelopment.
22 new businesses were recognized for their investment and contribution to the economic vitality of Downtown Statesville. The new businesses from the past year are as follows:
Alan Carpenter, PA – 316 East Broad Street (Alan Carpenter)
Alluvia HOA Management – 118-B West Broad Street (Pam Stanley)
Autumn Hope Counseling – 119 North Tradd Street, Suite A (Chris Bumgarner)
Center Stage Alliance – 139. East Broad Street (Mykel Myers)
Fidelity Law Group – 211 Walnut Street (John Riordan, Jonathan Shbeeb, Lance Edmonds)
FTW Gaming – 112 West Broad Street (Eddie Lovaglio)
Infinite Space – 317 South Mulberry Street (Tess Hogna & V Heidenreich)
Jennifer Morrison Interiors – 203 West Broad Street (Jennifer Morrison)
Miss Make Art – 111 South Center Street, Suite 108 (Ali Levis)
Morris & Fox Attorneys at Law – 121 North Center Street, Suite 101 (Tome Morris & Heather Fox)
One Eleven Salon – 111 Water Street (Erica Walker)
Rachel's Crafty Corner – 106 Court Street (Rachel & Bryan Gaitlin)
SKJ Barber Shop – 232 West Broad Street (Lynn Jones)
Sow Media – 215 West Broad Street (Isaias Sanchez)
Statesville Convention & Visitor's Bureau (328 East Broad Street, Suite 101)
The Elm Airbnb – 207 South Elm Street (Ron & Cheryl Matthews)
The George Vintage & Design – 212 South Center Street (Teri Brake)
The Hive Airbnb – 307 East Broad Street (Brandon & Cindy Sutton)
The Vanilla Bean Bakery & Coffee Shop – 127 West Broad Street (Emily & Parker Noland)
The Watering Hole – 226 West Broad Street (Eric & Joanna Gerchak)
Theater Statesville – 109 West Broad Street (Caity Gordon)
Wicked Wardrobe – 109 East Broad Street (Chrystal Johns)
About Downtown Statesville Development Corporation (DSDC)
Downtown Statesville Development Corporation (DSDC) is a 501(c)3 nonprofit organization charged with administering the Main Street program for Statesville and whose mission is to champion, promote and lead Downtown Statesville as the economic, social and cultural engine in the region. This is achieved in collaboration with public-private partners working together to enhance the appearance, desirability and vitality of downtown. Visit www.downtownstatesville.com for details.