News & Media
C.R. Onsrud CNC Machining Center Voted the Coolest Thing Made in the State of North Carolina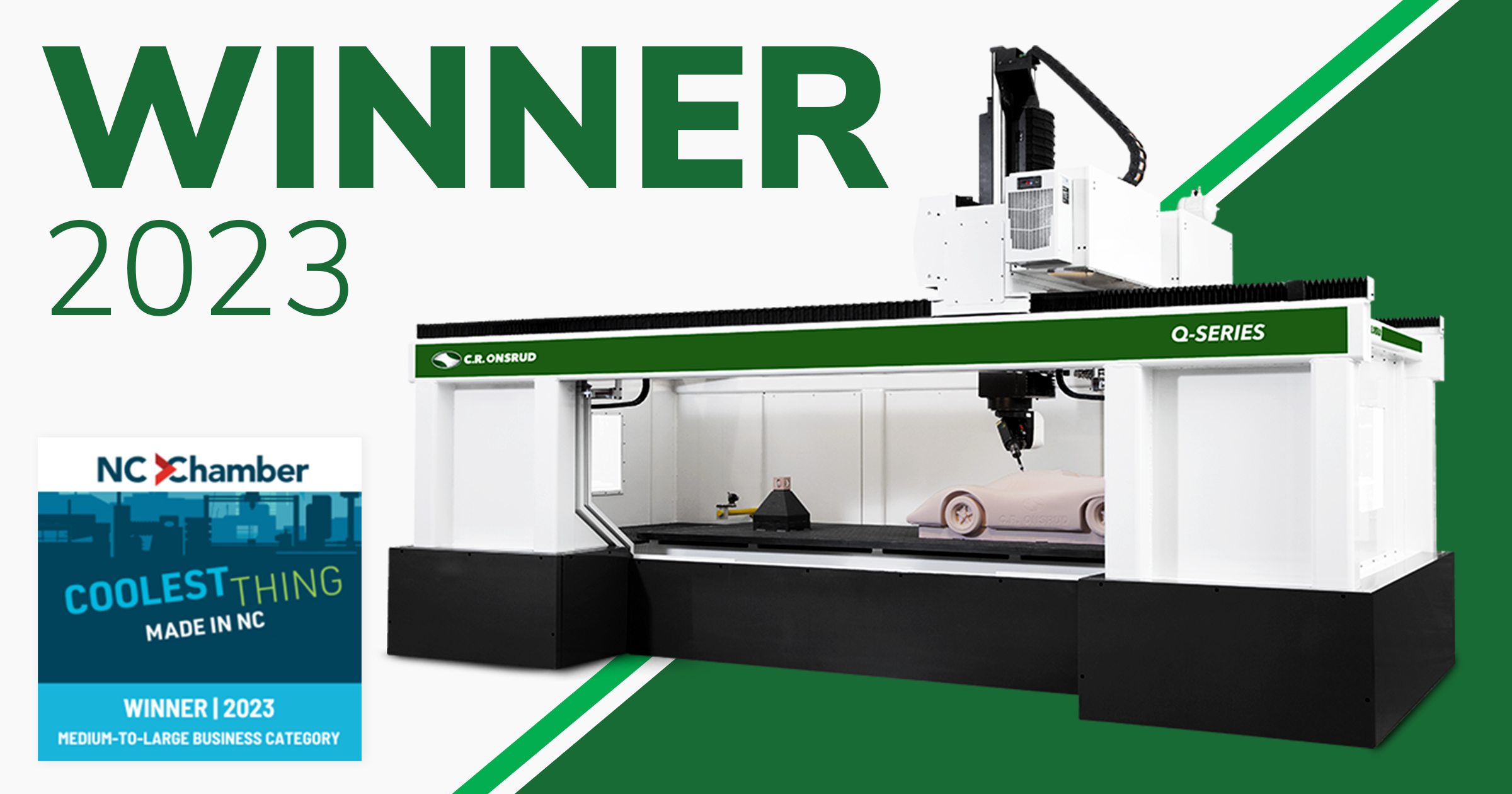 C.R. Onsrud (Troutman, NC), a family-owned American Machinery manufacturing company, received the honor of being voted the #1 Coolest Thing Made in NC for their Q-Series industrial CNC Router.
Emilea Boyette of the NC Chamber announced C.R. Onsrud as the winner via broadcast this Thursday morning (October 5th). The online contest began with nominated companies being voted on by the public in three rounds totalling over 45,000 votes. With 130 nominated
companies, C.R. Onsrud's Q-Series 5-Axis CNC Machine earned over 10% of all the votes cast,ranking it #1 overall.
"We truly appreciate the overwhelming support we received from our distributors, vendors, business partners, employees, family, friends, and everyone who kept the voting momentum going, and encouraged others to vote, right to the last push," said Tom Onsrud, CEO of C.R. Onsrud. "We heard it was a very close race, so everyone's voting support mattered! I'm also grateful to and proud of the entire Onsrud team for their hard work and dedication in actually manufacturing — and I'm excited to say these words — the #1 Coolest Thing Made in NC!"
The competition honors North Carolina's manufacturers and raises awareness about rewarding careers in modern manufacturing. "Congratulations to C.R. Onsrud for winning the 2023 'Coolest Thing Made in NC' title," said NC Chamber President and CEO Gary Salamido. "Our manufacturers are vital to both the health of our people and our economy."
"We are excited about our role in the future and growth of American manufacturing and North Carolina specifically," said Onsrud. "Thank you to everyone who has supported our company."
In addition to receiving a trophy, C.R. Onsrud and their Q-Series CNC Router will be featured in  NC Chamber and Business North Carolina publications, podcasts, social and digital media, among additional statewide publicity efforts. The social media campaign is available at
#CoolestThingMadeInNC.
———-
C.R. Onsrud, Inc., located in Troutman, NC, specializes in CNC machining centers and Inverted Routers® along with providing a full line of tooling and accessories for CNC machinery. See www.cronsrud.com for more information about C.R. Onsrud Inc.