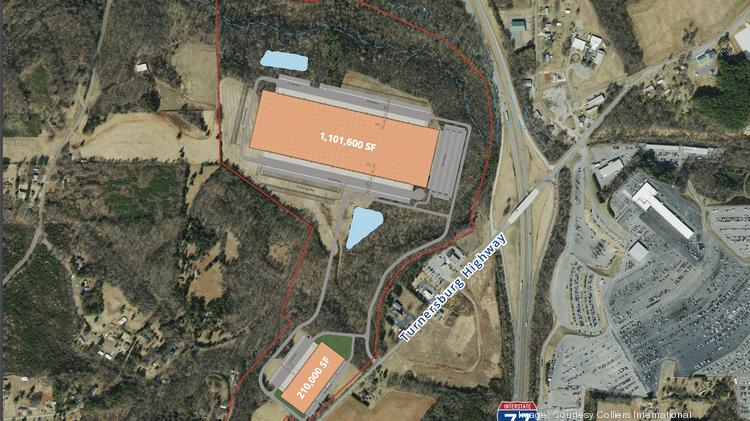 Last month, TPA Group finalized its $8.3 million purchase of around 180 acres at Interstate 77 and U.S. Highway 21 in Statesville, according to county real estate records. The Atlanta-based developer is plotting an industrial project there that calls for two buildings totaling 1.3 million square feet of industrial space. The project has been named 77/40 Commerce Center, as it is just north of the I-77/I-40 interchange.
Colliers International's Grant Miller, which is helping to lead leasing for the project, said construction is expected to begin in 2023. He said build-to-suit opportunities for the property will be explored until then but the developer is prepared to move forward with a speculative project there. Plans for the project show buildings of 1.1 million square feet and 210,000 square feet, respectively, at the site. Delivery is targeted for 2024.
Miller and John Ellis, also of Colliers' Charlotte office, are handling leasing for the buildings.
"Given the growth of the industrial market, what I love about the site is direct access to I-77 at a full interchange," Miller said. "And you're situated just 2 miles north of I-40. Given all of the improvements at the I-77/I-40 interchange, this just makes sense from an industrial perspective."
TPA received key approvals for the Statesville project, including annexation, rezoning and incentives, earlier this year. It is not the only site in Iredell County that the developer has eyed for a major industrial project. Late last year, Troutman Town Council approved rezoning and annexation requests by TPA for another large project there.
TPA's efforts, including 77/40 Commerce Center, add to a robust industrial pipeline in Iredell County.
Significant projects are underway there from Williams Development Group and NorthPoint Development. The long-planned Larkin Regional Commerce Park has also landed its first tenant, as The Sherwin-Williams Co. will occupy a 798,000-square-foot building developed by The Keith Corp.